Big companies and small start-ups use organizational charts to show their internal hierarchical structures. A well-designed org chart helps you visualize how the system works and decisions are made within a company. 
The complicated nature of org charts can result in the creator making the diagram overcrowded and messy. It puzzles the viewer and kills the purpose of building an org chart. And this is why companies across the board prefer using tools with built-in org chart makers.
Here comes EdrawMind with its intuitive interface, formatting options, and multiple customizable organizational chart templates. It is a good place for newbies to kick-start their journey and for professionals to get inspiration.
Wondering how to create organizational chart using EdrawMind? Follow this complete guide on how to begin your journey on this tool and create a fully-fledged chart within minutes.
Key Characteristics of Organizational Chart
A well-defined org chart visually illustrates the employee's relationship and their communication lines. And this is why you must keep the following characteristics in mind while creating an organizational chart.
1.   Clear Hierarchy
An organization, big or small, has a set reporting structure to show decision-making authorities and their responsibilities across the board. And this is why the org chart must thoroughly represent people in the higher and lower management.
2.   Chain of Command
Every company has multiple departments, each with its own expertise and function. These departments coordinate with each other and bring a company setup into action. So, an organizational chart must have a clear representation of how each unit is interacting with others. 
3.   Span of Control
Your organizational chart must also have a proper division of labor among the subordinates. For example, check how many managers or other people are working in one position. And if there is more than one employee for one vacancy, you should be able to communicate the hierarchy between them.
4.   Centralized or Decentralized Authority
Before plotting the company's structure, check whether it is a centralized or decentralized system. Where does the management control lie? If it is a centralized system, show the senior management at the top level, and vice versa.
How to Create Organizational Chart?
Though org charts can be intimidating at first, following some guidelines while creating them can help you soothe your nerves. And here is how you can create organizational chart in general.
Define the purpose of your chart. Ask yourself some basic questions. Whether you will share it with the company's employees or external stakeholders? Are you making a multi-department chart, or is it based on command structure?
Once decided, work with the HR department and gather the information regarding employees. Make a list of all the items to include in a chart. It is better if you add headshots and make a list following a hierarchical chronology.
Select a tool to plot an organizational chart. Choosing one with a built-in organizational maker is better, especially if you are a beginner.
Start adding headshots for employees and add their contact details.
Add colors and use themes to differentiate the departments and employees. And congratulations, your organizational chart should be good to go at this point.
Consult with HR and plan for regular updates according to the new hires or changes in the company's reporting structure.
How to Create Organizational Chart With EdrawMind?
Making org charts on EdrawMind is quick and easy, all thanks to its intuitive interface and editable templates. Got no clue how to get started on this software? Follow this simple guide and create an organizational chart using EdrawMind.
1.   Register Yourself and Login
Getting started on EdrawMind is pretty easy. All you need to do is register your email and set up a password. It won't take you more than a minute. And if you have already done that, log into your account.
2.   Create a File
Let's begin plotting the organizational chart. Before that, make sure to define the purpose of your chart. If you are only making it for the employees, or will you be sharing it with external investors, and so on? According to this, make a list of all the employees in a hierarchical order on paper, so it is easy when you add them on the canvas later on.
Navigate to the Org Chart from the main menu and drop elements onto the canvas. You can expand the fields using topic and subtopic options from the quick-access toolbar at the top of the screen. Create a rough draft and double-check all the fields once it is complete.
3.   Choose a Template
Or, if you are someone who is in a hurry and wants a quick alternative, turn to the EdrawMind template gallery from the dashboard. It has different types of editable organizational chart templates to cater to all needs. Scroll down and find the one suitable for your task. Clicking this will open the selected template contents on the editing panel. Add and remove symbols according to your data.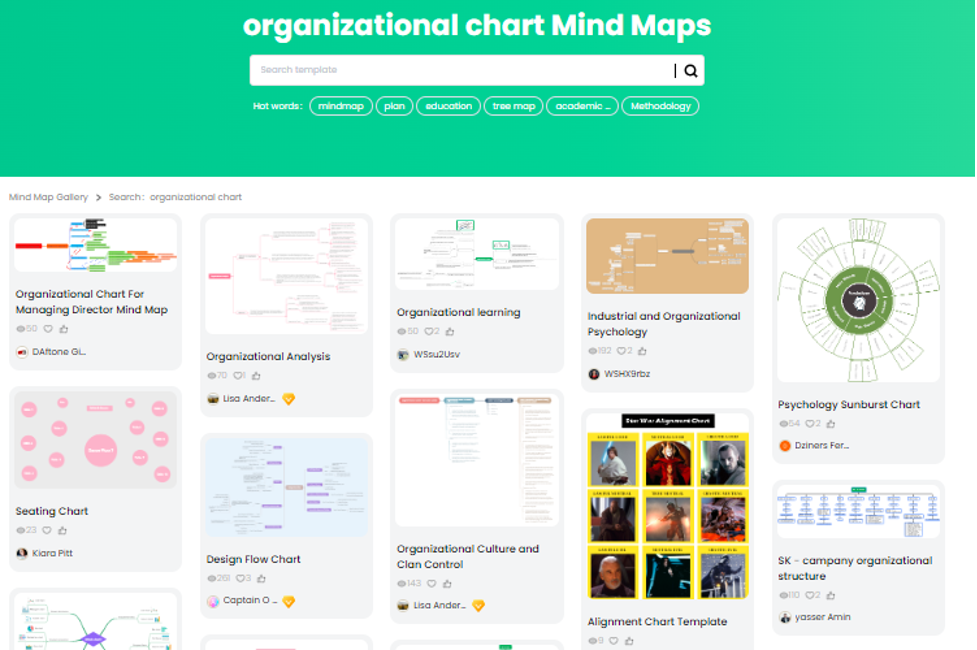 4.   Add Details
It is time to add details. Add color for each field to differentiate departments and reporting authorities in the chart. You can also change the theme or layout of your chart. EdrawMind also has animated effects and background colors for you to personalize the charts. And you have the company's organizational chart all set to go.
5.   Export and Share
Finally, EdrawMind supports multiple formats, including PNG, JPEG, JPG, BMP, and SG. Choose the one you want and download the org chart from the top-right corner. You can also share the final design on your social media platforms for friends to see.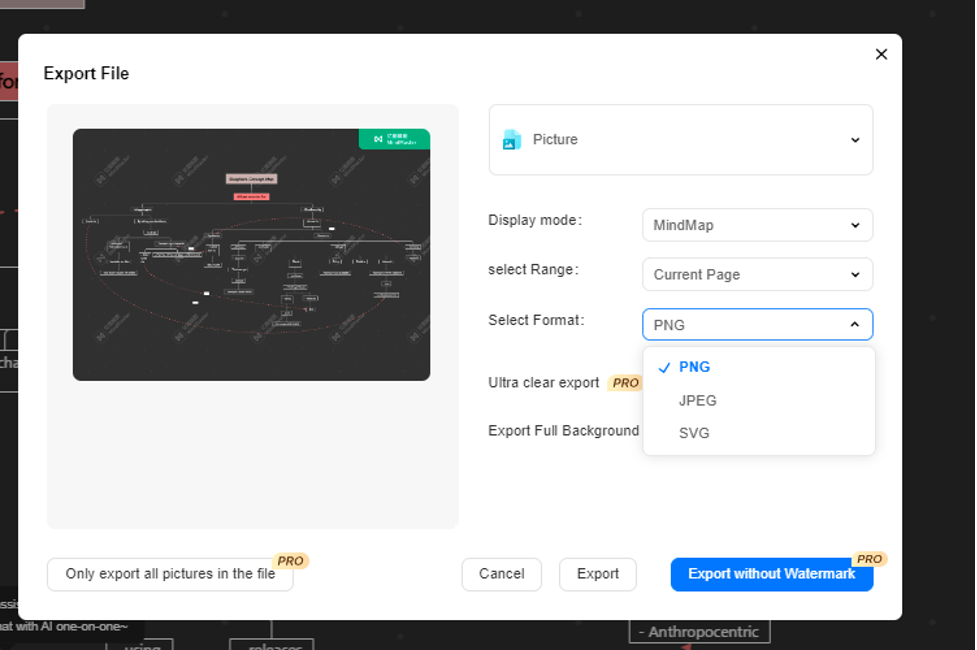 Conclusion
Starting a company and wants people to know about it? Begin by creating an organizational chart. It helps external stakeholders and team members visualize how an organizational system works.
And the best way to approach this challenging task is to select an org chart maker. EdrawMind is a good place to start. Create an organizational chart using EdrawMind templates. Select one you like and modify it in less than ten minutes.

Laila Azzahra is a professional writer and blogger that loves to write about technology, business, entertainment, science, and health.